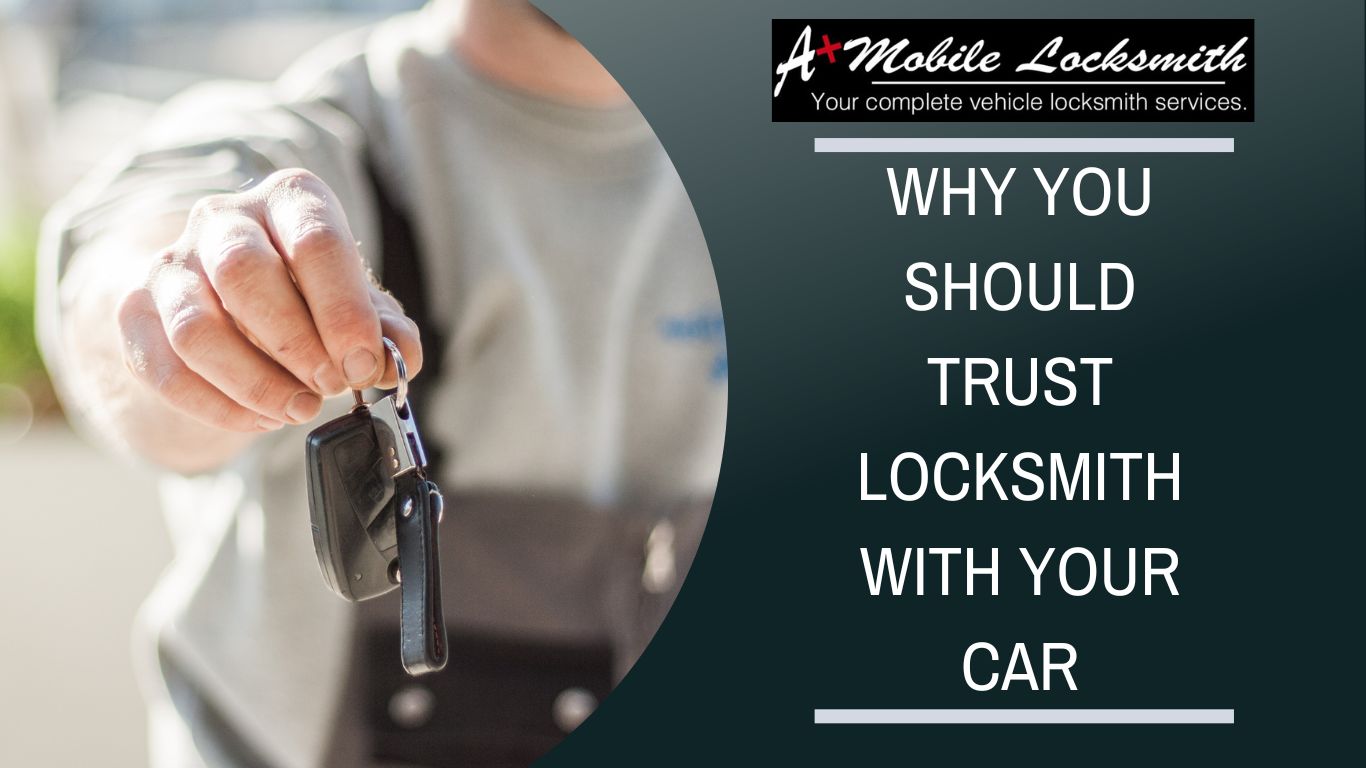 A+ Mobile Locksmiths is the company to call for the best vehicle locksmith service. Contacting A+ mobile locksmiths for car keys is all you need to do if you've misplaced, broken, or lost your keys. There is no guesswork involved in the work we conduct since we provide upfront pricing. In addition, we ensure that our clients are kept updated on everything involving their keys and vehicle. 
Technicians at A+ Mobile Locksmiths are certified, bonded, and insured. We provide quick and courteous service. When you call our automobile locksmiths, you can be confident that you will have skilled professionals coming to your area and receive upfront pricing and a 30-minute response time. We will send one of our mobile locksmiths to the location as soon as a call is placed to do the operation.
 A+ Mobile Locksmith provides high-quality locksmith services. We strongly emphasize quality and safety and have extensive experience in the automobile locksmiths sector. 
When you have a critical automotive emergency, our skilled team of mobile locksmiths, who are entirely licensed, insured, and professional, arrives swiftly. You can rely on our mobile automobile locksmith service since we only send employees and never independent contractors. 
Professional mobile vehicle locksmiths with knowledge, A+ Mobile Locksmiths are accessible round-the-clock and provide the best customer service. They are aware that emergencies never happen on schedule. 
The Comprehensive Range of Services Offered by A+ Mobile Locksmiths
 In a rush, car owners frequently forget to take the keys out of the car. Or occasionally lose car keys. Our mobile automobile locksmiths can help you in this dire circumstance if you are locked out and need help immediately. They will assist you in solving this issue without harming your car. In addition, they are experts at the opening and producing of original or duplicate keys.
While attempting to unlock the lock, your car keys will often shatter, or a piece of the key will become stuck in the keyhole. A+ Mobile Locksmith can help you remove the broken key from the ignition and generate a new, high-security key for your car. 
Our mobile vehicle locksmiths are qualified to return your vehicle to the road promptly and safely, regardless of the vehicle's make or wherever you are stranded. Our staff is skilled in handling problems on the spot without having to tow your car. 
It is challenging to trust someone to guard a valuable thing. However, we take great care in how we conduct our business because we appreciate your faith in us.
A+ Mobile Locksmith is the company to call if you're looking for a reliable local auto locksmith service. From budget to luxury cars, we guarantee that our locksmiths for car keys will secure every mile of your trip.
A+ Mobile Locksmith will assist you if you've misplaced or lost your car keys. We also provide a comprehensive range of services offered by A+ Mobile Locksmiths. You will also be advised on how to safeguard your car keys. The replacement of your car keys is made simple, affordable, and stress-free by A+ Mobile Locksmith. For more details about our auto essential replacement services, get in touch with us right away.
We look forward to assisting you promptly and safely resuming you're driving!
Benefits of Choosing A+ Mobile Locksmiths for Your Car Lock Needs
 Are you looking for a reliable mobile vehicle locksmith who won't abandon you stranded? The best, most well-regarded professionals may be found at A+ Mobile Locksmith. 
A+ Mobile Locksmith is the top supplier of locksmith services. We are known for offering high-caliber services at reasonable costs. Every day of the week, we offer emergency services round-the-clock. We are the organization you contact if you require a locksmith. Your one-stop shop for all your requirements for an auto car locksmith is A+ Mobile Locksmith. To arrange a service call, get in touch with us right away. 
We provide a range of services: 
Lock installation

Key duplication

Professional Technicians who are Certified and Licensed

24×7 Assistance

Superior Quality Service

Best Value in the Market
Conclusion
Obtaining a replacement car key can seem complicated when your original is lost or broken. But with A+ Mobile Locksmith's Assistance, you can quickly and swiftly get a replacement key. A+ Mobile Locksmith will collaborate with you from the initial consultation through crucial cutting and programming to ensure that your new key is manufactured promptly and correctly. Therefore, contact A+ Mobile Locksmith immediately if you require a car locksmith mobile key replacement. With our extensive experience and unmatched customer care, you can be confident that your replacement key will be created quickly and expertly, enabling you to resume driving in no time.